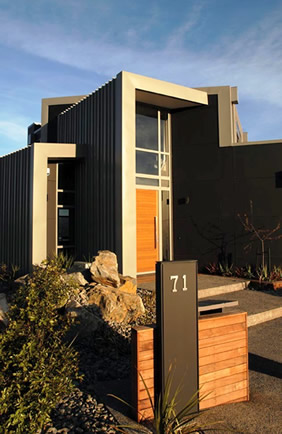 PROJECT NAME:
Tamworth Crescent 71 – Pendrous Residence
CLIENT:
Mr. Steve Pendrous
TYPE:
New Residence.
SIZE:
Floor area 280 m2, terraces 130 m2, landscaped over 300 m2, site 560 m2.
LOCATION:
71 Tamworth Crescent, Newlands – Wellington
PROJECT TEAM:
Davor Mikulcic, Michael Maddern
STATUS:
Completed
The first site visit and site analysis were crucial for this design. Good "separation" for each functional areas in the house as well as capturing fantastic views on one side towards Wellington – city and harbour and on another side towards Petone shore, Eastbourne and Lower Hutt and further over the valley, with simple clean lines and forms were my guide which determinate this design.
From very simple and explicit client brief, was required to accommodate a new Residence with approximately 260m2 floor area on the Western – flattish part of app. 550 m2 section incorporating:
 Three double bedrooms (master bedroom with ensuite and walk-in wardrobe).
 Separate studio – room for meditation
 Bathroom including bath, shower, toilet with hand basin to service the remaining two double bedrooms.
 Two separate living areas.
 Open plan kitchen / dining / lounge.(maximizing sun and view)
 The formal living area is a separate room and could also be used as TV and entertaining room.
 Laundry including tub, washing machine, dryer, shelving, ironing board etc., with access outside.
 Separate toilet with hand basin (at main living level).
 Entry hall with coat cupboard.
 Double garage with storage and internal access.
 Deck / terrace for outdoor living – to maximise view and sun.
 The house can be on 2-3 levels.
 Be maximum "open" to capture sun and exceptional views, but private and "enclose" towards neighbouring properties.
 Maximise usage of passive solar energy
 From the client "free hand for good, functional and original design".
The design concept of this house was simple. Create around central stairwell on three levels new residence (to fit under WCC height control plane requirements and boundary set-back). Each level is organized as functional zone in house and in same time orientate internal spaces to maximize sun and view whilst maintaining privacy. To accommodate Residence on three levels, for lower ground level was required app. 1.5 m cut to maintain building under High control plane and in same time maintain WCC requirements about boundary setback. Approximately half of 550 m2 site has slope of app. 35 degree what additionally make design complex and challenging.
Very exposed site to prevailing Southerly and Northerly winds (specific design wind zone) and proximity of neighbouring houses in some way determine that new Residence "can not" be "classical house with pitched roof". Considering all above "sculptural approach" was immediate option which in many ways covers functional, aesthetical, regulatory, budget etc. requirements. Idea about "merging" roof and wall structure and "follow shape of internal spaces" through analysis determinate existing design. Through material finishes and choosing "colour scheme" all that additionally supported first initial idea about "sculpture". This concept allowed us to create "façades" which are very different – some "totally blind" and without "openings" and some totally in double glazing. The use of passive solar energy was imperative from start and we successfully achieved it using for structural slab concrete finished with floor tiles what particularly in winter "suck sun" and as "passive collector" store it and distribute. Double glazing with maximum Insulation for roof, walls and floors supported it. House is orientated to achieve maximum sun (and view) without compromising privacy. Monochromatic exterior colour scheme was deliberately chosen to accentuate the sculptured appearance, avoid trends and fit comfortably into landscaping. Exterior materials and finishes further emphasize simple clean lines and stay "classic" in appearance.
Clients aspiration, and dictate of site, sun, view and budget with our creative approach resulted in this three dimensional form – simple, clean and contemporary in appearance.
A comment from a newspaper and some magazines, made immediately after completion of new Residence, gives a good indication about client and public opinion:
• The view from every room is amazing…. I do not knew where else in the world we could enjoy such views so close to city. My favourite space is the studio on top level with its adjoining the roof terrace is a place to go relax. It is light, airy and the view from the roof terrace makes me feel as if I am a million miles away from everything." Steve Pendrous
• Some houses capture the heart of everyone who sets foot inside the door, and this exquisite Wellington home does exactly that. The house spans an impressive 180 degrees, resulting in views from virtually every room. Homeowner Steve Pendrous acknowledges this to be the most special aspect of his new house, and it was. View stretch to capture the harbour and the hills and Steve, believes the outlook is nothing short of world class. Family from overseas cannot believe the view. It's the first think they notice; then they look at the house". Details from Homestyle magazine